Welcome to our board of directors page. Scroll down to access our current board of director profiles, biographies, and more.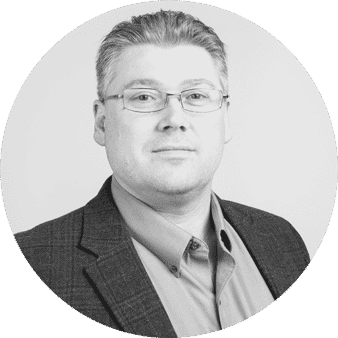 Todd P. Domney
Managing Partner - Sumac Geomatics Incorporated
With 25 years of experience in the natural resources sector, Todd Domney leads the team at Thunder Bay-based Sumac Todd is the managing partner at Thunder Bay based Sumac Geomatics. Originally from Upper Hutt New Zealand, Todd landed in Thunder Bay in 1989 to pursue studies in Outdoor Recreation at Lakehead University. Following university and a brief time with the Ministry of Natural Resources, he co-founded Sumac in 1996.
Today, Sumac serves a broad client base providing mapping and surveys for a diverse range of applications, from forest operations planning to mine tailings management. Todd continues to push Sumac's growth and innovation agenda, expanding the use of Remotely Piloted Aerial Systems (drones) in conjunction with airborne remote sensing, photogrammetry, and geographic information systems.
Todd is pleased to support the Northern Ontario mining service and supply sector through his association with MineConnect. He is married with two daughters.
Download CV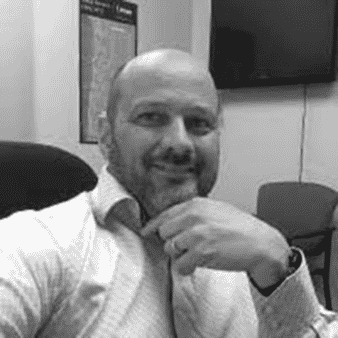 Andre Dumais
President - IONIC Mechatronics
Andre Dumais is an active member of the Greater Sudbury community. He has participated in a number of volunteer positions including sitting on the boards of the Chamber of Commerce, the Greater Sudbury Development Corporation, Child and Community Resources, Theater Cambria, Early Years North and others. He has been involved with SMEs in the mining sector for nearly twenty years and has been a member of MineConnect since its inception. With a particular passion for succession planning and maintaining the entrepreneurial spirit that has launched our industry, Andre is honoured to be a member of this board.
Andre currently acts as the President of the Ionic Technology group, representing half a dozen companies committed to improving safety, productivity and quality for their customers. The company provides automation services to heavy industry with a heavy bias toward mining, particularly refineries. When not at work, Andre can be found enjoying the great outdoors and the wonderful opportunities in Greater Sudbury. He has been married for 24 years and is the father of 3 boys.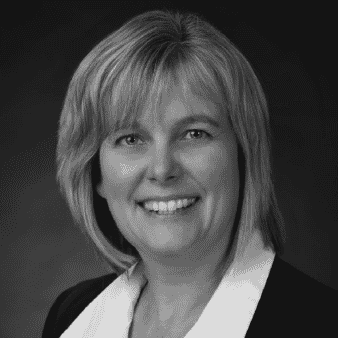 Tracie Marsh
Chief Operating Officer - Pilot Diamond Tools
Tracie Marsh has over 20 years' business management experience in both the private and public sector. As Chief Operating Officer Tracie is responsible for the overall operations at Pilot, a company established in 1969, which services the mining supply sector. Prior to her current role, Tracie spent 13 years in the higher education sector. In her position as Dean of Trades, Technology and Part-time Studies at Canadore College in North Bay. Tracie was responsible for apprenticeship, trades, technology, community justice and police services and part-time studies as well as overall management responsibility of the Innovation Centre for Advanced Manufacturing and Prototyping (ICAMP) and the college's Commerce Court Campus. ICAMP received the Northern Ontario Business Award for Entrepreneurial Community of the Year in 2013.
Tracie has served on the Board of Directors for the North Bay & District Chamber of Commerce, The Business Centre, Nipissing-Parry Sound and OntarioLearn. Currently Tracie is Treasurer for the Almaguin Choral Society.
Tracie Marsh has a BA in Administrative and Commercial Studies/Finance and Economics from Western University as well as her MBA – Marketing Concentration from Laurier University.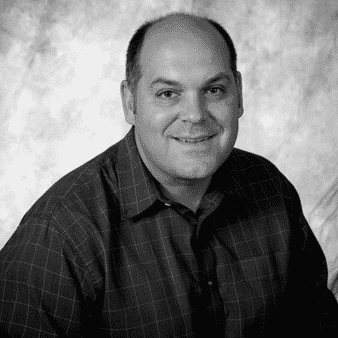 Kevin Kozar
Principle Engineer - Kozar Engineering
As a graduate of Southern Alberta Institute of Technology and Lakehead University, Kevin began his engineering career 23 years ago. Kevin established Kozar Engineering Inc. in 2012 to provide cost effective engineering solutions to clients operating in Northwestern Ontario. As the Principal Engineer at Kozar Engineering, Kevin is responsible for the overall operations of Kozar Engineering Inc. with respect to staff assignments, business development, corporate governance and office administration. In addition to the day to day operations, Mr. Kozar is accountable for the staff safety and wellness while working for Kozar Engineering. This includes providing all necessary safety equipment required to complete a task, providing staff safety training as required. Ensuring site specific safety training has been completed prior to staff arriving on specific sites.
Through his 20+ years in the engineering field, Mr. Kozar has gained unique experience in the design of mechanical systems as well as detailed specification writing. Kevin also has extensive experience with brownfield equipment installations and conversions at various client sites throughout Canada. Mr. Kozar has practical design experience and expertise in water management, piping & pumping design, heating, ventilation and air conditioning design, tank inspections and design, material handling design, heat recovery system design. To compliment the design experience, Kevin has valuable experience in all aspects of project management and contract administration from document control, budget control, scheduling (both staff and project milestones) to project close-out services.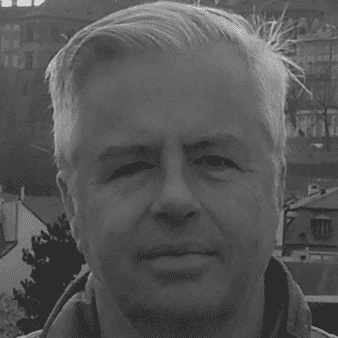 Jean Guy Coulombe
President - Velco Machining
Jean Guy is the owner and President of Velco Machining. He and a group of Sudbury based investors purchased the business in March 2021. Jean-Guy has 35 years worth of mining industry experience . His career started with Vale. He has held progressively senior management/executive roles with multinational such as Sandvik and Metso-Outotec. His career has involved multiple international postings in both the heavy equipment manufacturing sector and distribution sector. He has also worked inside the private equity sector having managed and successfully exited a Sudbury based manufacturer.He holds a degree in Mining Engineering from Queens University and an MBA from Laurentian University. Jean Guy is pleased to extend his experience to the Northern Ontario mining industry supply sector through the association with MineConnect.
Jean Guy is a lifelong resident of Sudbury. He is married with 3 adult children. He is involved in various industry related groups and post secondary institutions. He has previously served on a number of industry related boards in both Canada and the United States.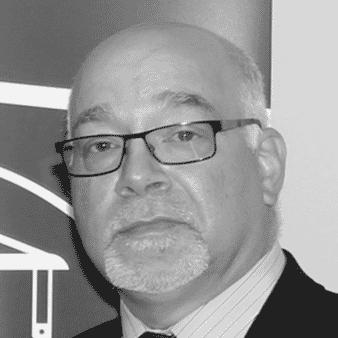 John Febbraro
Senior Manager, Business Development and Advisory - N1 Solutions Inc.
John has extensive expertise in the administrative/business management and technical fields since 1984. He has worked within government, private, and plant type surroundings. This includes all areas of program and quality management practises, investment attraction, marketing, strategic planning, evaluation, policy/procedure development and implementation, budget development, supervision, negotiations, facilitation, sales, and scheduling.
John retired after spending 20 years with the Sault Ste. Marie Economic Development Corporation and the City of Sault Ste. Marie as the Director Business Development supporting companies in Northern Ontario involved with mining, forestry, manufacturing, energy and aviation. His retirement was short lived as he joined N1 Solutions Inc in Sault Ste. Marie under their Strategy division as the Senior Manager Business Development and Advisory and continues to support Northern Ontario businesses. John was also the President of a small business consulting group in Sault Ste. Marie that was heavily involved in business consulting and developing quality management systems. He has also held positions in Ottawa with the Canadian Space Agency and EH Industries in a program management capacity.
John has served on many Boards and brings with him excellent governance, problem solving, analytical and timely decision making skills coupled with excellent writing skills for project proposals, government applications and communication pieces for reporting purposes.
John has attained a MBA from the University of Liverpool, BA from Carleton University in Ottawa and an Electro/Mechanical Technology degree from Algonquin College in Ottawa.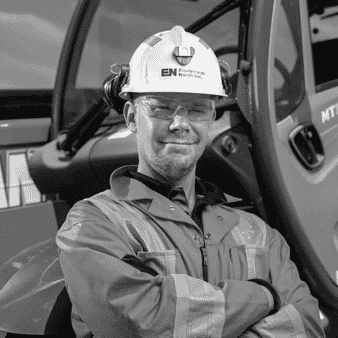 Ryan Matusch
Vice President - Equipment North
Ryan Matusch grew up in Sudbury, Ontario watching his parents run and develop businesses (Copper Cliff Mechanical and Equipment North) that catered to the local mining industry. After graduating from Carleton University (B.A.) and McMaster University (M.A.), Ryan worked in the software industry in Waterloo, Ontario. Here, he started Synaptext Technical Communication, a consulting firm that specialized in developing e-learning and technical documentation for software and engineering companies.
In 2011, he relocated his family to Sudbury to join Equipment North as Business Development Manager. In this role, he worked to grow the local construction equipment rental company into mining markets across Canada. He became Vice-President of Equipment North in 2014. He is also Owner and President of Metex Manufacturing Ltd, which specializes in custom steel plate fabrication for heavy industry. Ryan is proud of Northern Ontario's enterpreneurial spirit, and tries to bring his passion for building new things to all his pursuits.
Ryan is married, and has two fantastic children.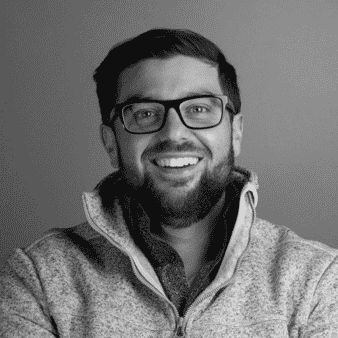 Bruno Lalonde
President - NSS Canada
For the past few years, as General Manager of NSS Canada, Bruno Lalonde has led the planning and execution of corporate development and business transformation efforts in establishing NSS Canada as a market leader, furthering the company's forward thinking innovative products and services focusing on efficiency and accuracy in the industry.
Bruno has a background working with various companies in the mining industry and has a degree in business, the combination of which gives him the experience and communication skills that help him to work with clients of any department. His ability to communicate comfortably in the language of sales, marketing, operations, finance, technology and product knowledge has contributed to his current success. His experience in the mining industry and as an industry professional has built the trust of clients by being able to deliver on all platforms.
Bruno credits his success to having had the opportunity to have been mentored by great industry executives. He has always had a strong passion for technology in the mining industry and believes that utilizing technology as a backbone will achieve smart change in the mining industry.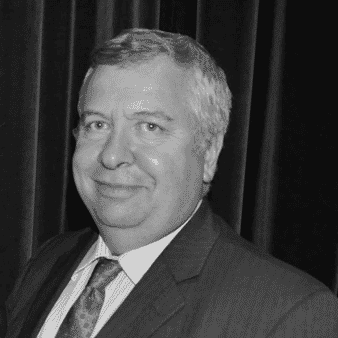 Eddy Lamontagne
Director of Sales and Business Development - Timmins Mechanical Solutions
Eddy Lamontagne has spent 39 years in the Mining industry in a number of positions including corporate sales, maintenance supervisor, site planner, to name a few.
He currently is the Director of Sales and Business Development with Timmins Mechanical Solutions and is responsible for growing the day to day operations of the company including overseeing their new 11,000 sq. ft maintenance facility.
As a Maintenance Superintendent at First Nickel Inc. and St. Andrews his main goals were to build and maintain a safe working environment. Some of his responsibilities included long and short-term planning, develop KPI's, cost managing, implement systems/process, supervising, preparing and implementing maintenance budgets. Eddy also spent twenty-eight years with Kidd Creek Mine in a multiple of departments and was an integral part of the negotiating team for the CAW collective agreement at FNI.