It was great to see so many of our members exhibiting in the Northern Ontario Mining Showcase at PDAC 2023! Whether you were there or not, we promote all our members and the find-a-supplier tool on our website when exhibiting at a trade show.  We hope you had some fun and achieved your goals for the convention.  We're sifting through all the photos and information we gathered while at the convention and will bring you more next week.
MineConnect hosted two panel discussions at the mining showcase pavillion. Our Director of Membership Services, Paul Finley moderated the panels. The first featured: Cameron Moser (Acces Employment), Meredith Armstrong (Invest Sudbury), Bruno Lalonde (NSS Canada). The discussion centered around programs provided through Acces Employment and the Rural and Northern Immigration Partnership, which can help employers find internationally trained professionals to help meet your HR needs. Bruno Lalonde, President of NSS Canada (and MineConnect Board of Directors) provided a first-hand account from an employer's perspective. If this is of interest to you, be sure to register for our upcoming members-only Virtual Hiring Event for International Professionals on March 31st.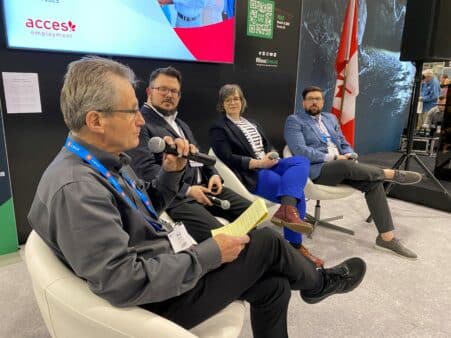 The second MineConnect-hosted panel was jam packed with useful information about advanced mining projects in four Canadian provinces and three territories: BC, NWT, Yukon, Saskatchewan, Ontario, Quebec, and Nunavut. Members can soon find these presentations in the Industry Resources section of the MineConnect members-only portal.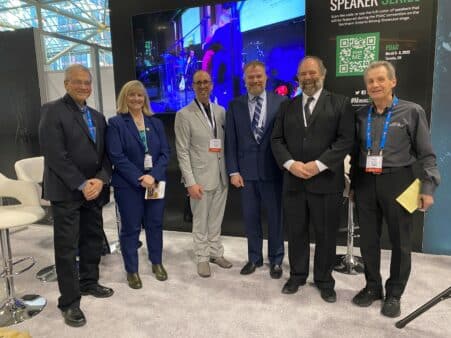 We also sponsored a popular Mining4Beer networking reception, and one of the most sought-after events of PDAC – Northern Ontario Night!  We had a surprise guest. Perhaps you'll recognize him in the photo below from the stage…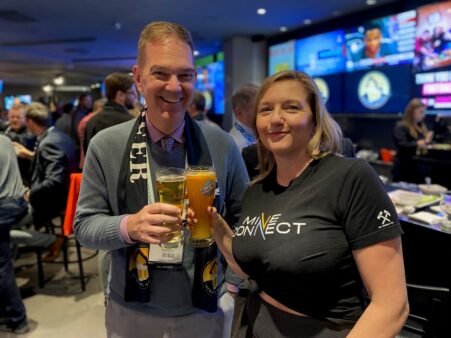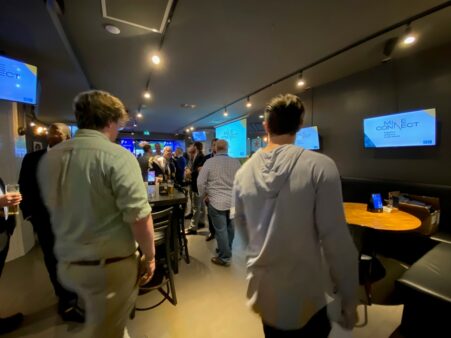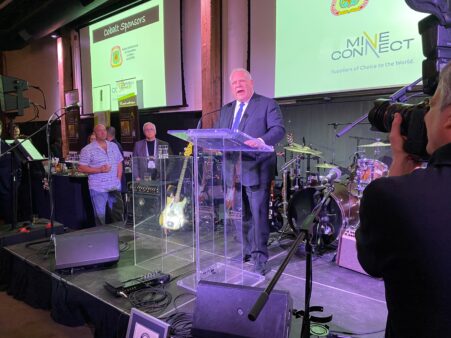 Also, take a little time and check out the short videos produced by the NOMS in-house media team. It's the next best thing to being there!
Next up! NOMS at CIM – April 30 to May 3! See you there!