Green Economy North: Cohort Two – Register Today! 
Green Economy North, a membership-based program of reThink Green, is now accepting applications from businesses, non-profits, and the public sector – to join our growing and collaborative network of Green Economy Leaders!
Participants in Cohort Two will receive expert guidance and support services that enable increased efficiencies, reduced emissions, and real cost savings!
Through our group-based training sessions, and customized 1:1 support services, our team offers the knowledge, tools, and resources you need to pivot and succeed in the low carbon economy.
Green Economy North also facilitates professional networking opportunities, and helps connect members with external funding, rebates, and incentives – supporting them as they achieve their sustainability goals.
Click on this link to read an article published today in Northern Ontario Business: Program helps businesses clean up their carbon footprint – Northern Ontario Business
Exclusive Funding Opportunities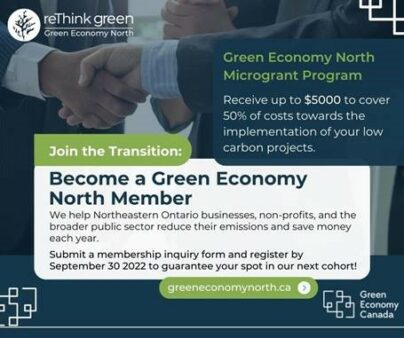 Through our soon-to-be-launched Microgrant Program we can fund some of our members' proposed works – up to 50% of costs, to a maximum of $5000.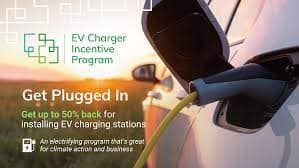 Green Economy Canada's EV Charger Incentive program provides successful applicants with funding to support the installation of Electric Vehicle Infrastructure – up to 50% of costs, to a maximum of $100,000. The EV Charger Incentive program will run through to March 31st, 2024 – with the goal of disbursing $3.4M of incentives in this period.
Ready to Join?
1 – Interested orgs are invited to complete our Green Economy North Membership Inquiry Form by Friday 30th September 2022: HERE
2 – Once received, we will respond with a membership quote, plus a copy of the Draft Membership Agreement.
3 – Once membership is confirmed, we will schedule a 1:1 "Kick-Off" meeting, to get to know you better; Then:
4- We will proceed to the cohort-based training sessions in November 2022. (All training dates will be set out in due course).
Regional Business Forum 2022: Save the Dates!
reThink Green's Regional Business Forum takes place at the Northbury Hotel & Conference Centre in Sudbury on the evening of Wednesday 9th and all-day on Thursday 10th November 2022.
Further information, including conference registration details, will be published in the coming weeks.